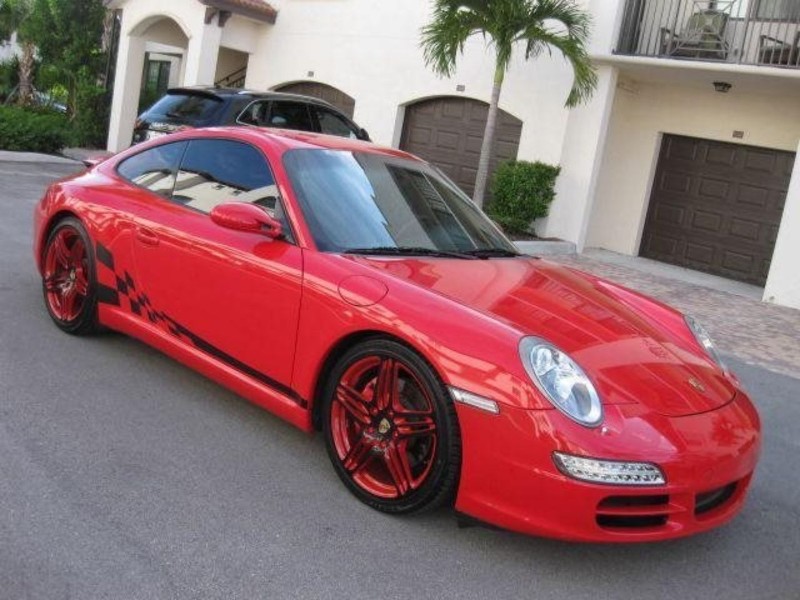 It is a buyer's market for used Porsche 997s. The prices are dropping, and many who never believed they could own a sports car are finding these wonders drawing closer and closer to their budget. Today is the day to get your bargain as the gap between used and new Porsches grows. What do you need to know about buying a used Porsche before you jump into the frenzy?
The Porsche 997
Porsche released their 997 model in 2004 as an internal designation set for the 991 Porsche models. The biggest change made between the 991s and the 997s were in styling, both inside and outside the car. The 997 version has larger wheels that increase its power slightly. It also has an updated engine injection system which gives it more power. These two small changes have helped to make the 997 the most popular of all the 911 models.
The Porsche 997 provides excellent driving for many years, provided you take care of it and maintain it regularly. However, they have a small number of issues that you should look into before purchasing a used Porsche 997. Some of these issues will require professional service and specialized equipment. Here is a checklist of things to do before making your purchase of a Porsche 997.
Go over the comprehensive service record.
The first step really applies to any used car purchase, especially if it is a high-price item. Get a background check and find out if it has ever been in an accident, how often it has been in the shop for repairs, and how often the previous owner had it maintained. If you see gaps or irregularities in this report, that is a red flag that there is trouble ahead. Cars with maintenance issues under previous owners will have the same or worse problems under your ownership as well.
Also, check into the places where the car has been maintained or repaired. If these are general auto mechanics, they may not have been trained to look for the unique situations that arise with Porsche vehicles. It is always wiser to go to the trained experts to make sure that repairs and maintenance are done correctly. The invoices and service history record should help you prepare for any repairs you may need to do in the near future.
Has the Car Been Over-Revved?
Amateur sports car enthusiasts often have the philosophy of "loud and proud." If it's got a big engine, you should show it off. However, real Porsche enthusiasts know that over-revving is a problem that may invalidate the warranties from the car manufacturer. They know not to do it.
If you are buying a Porsche though, how can you tell if it has been done to the car before? You will need to get a Durametric Diagnostic Tool. With this tool and your laptop with you, you can check a used Porsche to make sure the odometer is accurate and that the engine has not been abused. There is plenty of information available with this tool on the Porsche 997, so be sure to check it out.
If the car has had an over-revving event in the last 50 hours or a high number of them throughout its time with the owner, it may be a sign that this car has been abused, that its warranty will not be held up, and that it is in store for a major breakdown soon. Cars that have been significantly over-revved are best avoided.
Check the Status of the IMS Bearing
One of the biggest issues facing Porsche cars is the IMS bearing failure. This small, inexpensive piece has caused havoc in Porsche models up to 2006 when Porsche corrected the bearing issue. If the Porsche you are looking at is a pre-2007 model, be sure to inquire and check the records on its IMS Bearing. It has been known to go out before even reaching 10,000 miles, and there are no warning signs. When it goes out, it can cause irreparable engine damage and cost you thousands of dollars to replace the destroyed engine parts.
If the owner has not already replaced the factory IMS Bearing with a better one, you need to plan on doing so right away. If you are not sure how to check the IMS bearing, bring in a Porsche specialist to check the car over before you purchase it. It will be well worth your investment and will save you lots of money in the long run.
Alternator Cable Check
Porsche 997s are well-built cars, but they have frequently shown problems keeping the battery charged. This issue has been narrowed down to a fault with the original, factory-installed alternator cable. The fix on this is simple but potentially time-consuming. You need to replace the original alternator cable with an upgraded, more durable cable.
Similar to the issue with the IMS Bearing, you may want to get a specialist to do the alternator cable installation. While they are making the cable installation, they can check for any other Porsche-specific issues that may arise with your car. It is best to have them look it over before you make a purchase, so you have and clear and accurate idea of what kind of repairs you may need to prepare to make down the road.
Image source: MB Collection
Tags: Buying Guide, supercars, Used Cars
Take a look at our Featured News