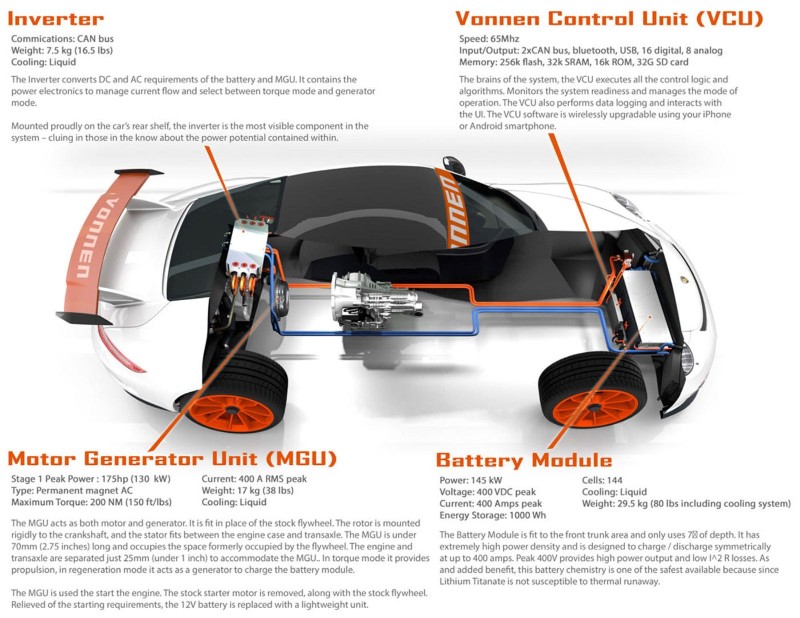 The Porsche Rennsport Reunion was recently on full display at the legendary Laguna Seca Raceway in Monterey, California. While this exhibition is a great opportunity for like-minded Porsche owners to show off their German performance cars, it's also an exceptional venue for aftermarket manufacturers to showcase their product offerings. One that turned heads was Vonnen, an aftermarket company that specializes in hybrid engine configurations. What they introduced to the Porsche segment at Laguna Seca focused on hybrid upgrades for the Porsche 991 and 2012 Boxster and Cayman models.
So, what's unique about this hybrid enhancement? Well honestly, placement for starters. Most hybrids operate on a combustion engine plus electric motor combination, both paired to a drive shaft separately. According to Vonnen, this new hybrid swaps out the standard Porsche flywheel with a peppy electric motor that applies instant torque to the crankshaft. When the electric motor takes over, the ECU, engine, and remaining drivetrain components are unchanged.
If you're thinking to yourself, "HUH" – don't worry, you're not alone. The concept might seem fuzzy on an engineering standpoint, but Vonnen is thinking outside the box with this new hybrid powerplant. Their reporting indicates that the electric motor can also operate as a generator that will charge the onboard battery module. The complete system is separated into two "stages". The stage one system offers 175 horsepower and 150 pound-feet of torque. The Stage 2 pack returns an amazing 350 ponies and 294 pound-feet of torque. This powerplant will add an extra 120-pounds and believe it or not – is remote controlled by a smartphone.
This new hybrid system was developed for air-cooled 911 engines, and pre-2012 Porsche 991, Cayman, and Boxter's. If you currently have one of these vehicles and are looking to add one for improved 'energy efficiency', you should budget close to $100,000 for the $75K base package, plus installation and travel fees.
Tags: Custom Cars, Hybrid
Take a look at our Featured News