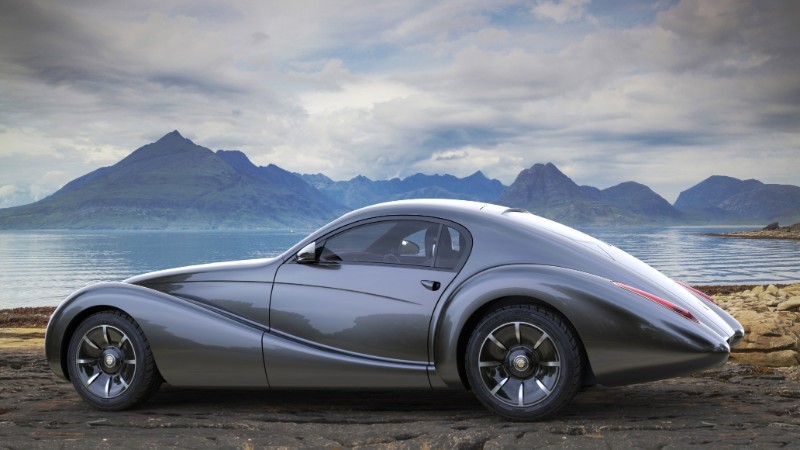 Imagine taking the vintage aero-cars from the 1930's and infusing modern technology and performance. Taking styling cues from Bugatti, Chapron, and other legendary French automakers, the Eadon Green ZECLAT is a low seating, wide riding, and curvaceous luxury coupe that is both visually stunning and features advanced technology. This peppy luxury coupe is the second concept car to come from Eadon Green, (who also created the BLACK CUILLIN) and is beginning to introduce this custom-built coupe to consumers across the globe.
The Zeclat is truly in a class of its own. The incredibly wide-stance sports car is manufactured from carbon nano-composite and aluminum chassis and a lightweight carbon fiber bodyshell. It has been precision shaped for optimal aerodynamic efficiency, with visual elegance you'd see from a modern-day Bugatti. A series of strategically placed vents hep to cool the brakes, transmission, and engine, while the body design helps to stabilize the vehicle at speed.
The "aero-style" wrap around cockpit of the Zeclat is optimized for driver and passenger comfort, with precision, hand stitched British leather interior, carbon fiber and polished aluminum interior accents. Power for this beast is supplied by a Chevrolet LT1 V8 6.2-liter engine, that produces 460 horsepower and an almost identical 465 pound-feet of torque. Paired to an eight-speed paddle shifted automatic transmission, the Zeclat can accelerate from zero to 60 mph in 3.6-seconds.
Combined with the intelligent electronic traction control software, and the unique rear transaxle that helps achieve optimal weight balance, the Zeclat is comfortable to drive, yet can get up and go when you stomp on that loud pedal. A very unique feature of this vehicle is a dry-sump oil system, often found in high-performance powerplants used in NHRA Drag Racing specifically. The V8 engine's oiling system is includes oil-spraying jets inside the engine block, which reduces piston temperature for maximum lubrication and long-term durability.
Drivers have the flexibility of choosing a mode selector that permits them to optimize suspension settings based on driving preferences or road conditions. There are five distinct driving modes that optimize steering, braking, and even throttle control for peak performance. A driving recording software program helps drivers review performance settings, so they can optimize for improved performance on or off a race track. Modern day technology including infotainment systems that feature Apple CarPlay and Android Auto integration, the Zeclat offers everything the automotive enthusiast could ask for. It's even available in 18 exterior color combinations and 13 interior color patterns.
Tags: Concept Cars, New Model
Take a look at our Featured News