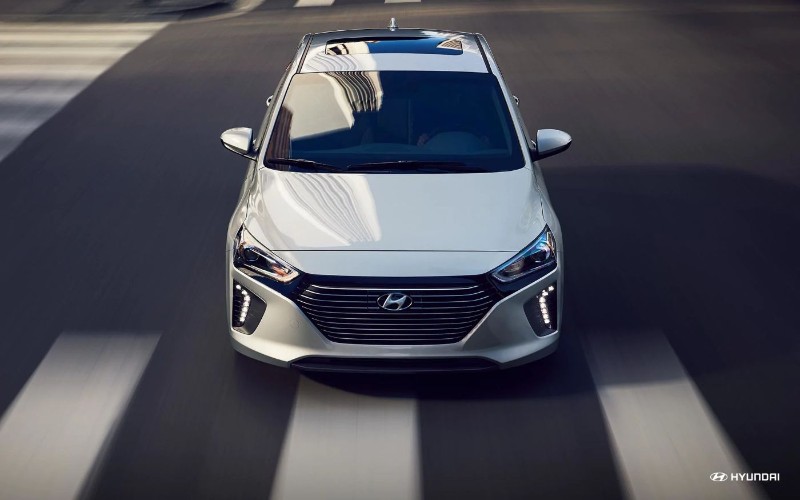 US New and Reports put together a list of EVs and Hybrids in order of a number of criteria. One of the most important rankings was fuel efficiency. This can be a bit tricky to rank between Hybrids and EVs because the Hybrid uses some gas while EVs run on an electric charge. Even comparing cost is not sufficient because the price of gasoline fluctuates daily. So, this is not a perfect list. However, if you are looking for the top Hybrids and EVs on the market, this should give you plenty of options.
#8 - 2018 Honda Accord Hybrid
The Honda Accord Hybrid has taken the Hybrid world by storm with its 47mpg on both city roads and highways. Its chief competitor is the Toyota Camry Hybrid, which saves you around $50 per year. That's a thin margin of difference.
The pros of the Honda Accord Hybrid are its excellent fuel economy, extra room in the back seats and trunk, a user-friendly infotainment system, and superior reliability. The cons of this hybrid are that the handling is mediocre and several of this cars rivals are a bit more upscale.
#7 - 2018 Hyundai Ioniq
The Hyundai Ioniq Hybrid ranks in at number seven as one of the most fuel-saving vehicles you can purchase today. It has an official EPA-estimated fuel economy score of 57 mpg in the city as well as 59 mpg on the highway. With this Plug-in type Hybrid, you'll get 119 mpg-e, which combined will save you about $100 each year above the non-plug-in model. You' can save an additional $150 a year by going with the Ioniq EV instead of the plug-in which gets 136 mpg-e and an all-electric range of 124 miles. This is comparable to the EV ranges of the Volkswagen e-Golf and BMW i3.
The Ioniq has terrific fuel economy and mpg-e ratings (Hybrids/EVs), a user-friendly infotainment system, and high-reliability scores. However, its handling leaves something to be desired, and it has limited back-seat space
#6 - 2018 Kia Optima Hybrid
The Kia Optima Hybrid gets 39 mpg on city roads and 46 mpg out on the highway, which is good ratings for a midsize car but not quite up to its rival's scores. The plug-in version of the hybrid gets an estimated 40 mpg combined under fuel power and 103 mpg-e running on electric power. This could save you up to $200 a year on gas.
The Kia Optima Hybrid is similar to the Ford Fusion. It has user-friendly tech inside, fantastic safety ratings, and, like many of these cars, the plug-in hybrid version is much more fuel-efficient. The Hybrid version fuel economy is just okay, partly because this is a mid-size car. However, you lose some of that space in the trunk with the plug-in version.
#5 - 2018 Toyota Prius
The Toyota Prius hybrid powertrain gets an EPA-estimated 54 mpg on city roads and 50 mpg on the highway. Since the Prius Two Eco weighs less, its actual mileage is raised to 58/53 mpg city/highway. Those scores beat both the Ford C-Max Hybrid and Chevy Malibu Hybrid. However, the Toyota Camry Hybrid gets similar mileage to the Prius with more space available.
The Prius has a phenomenal fuel economy and tons of standard features. It also has a very generous cargo bay. Its apps are not up to speed though, and it's chief rival, the Camry Hybrid has more space in the back.
#4 - 2019 Ford Fusion Hybrid
Here is an example of the breakdown of these Hybrids and EVs. The Ford Fusion Hybrid comes in at number 4, but not because of fuel economy. The official estimates for the 2019 model are not available yet, but the expectation is that they will be about 43 city mpg and 41mpg on the highway. How does this beat the Prius?
Comfort. The Ford Fusion Hybrid has a well-designed interior. It is spacious and has very comfortable seats. It handles beautifully. Its only downsides (other than the lower mpg) is that it begins to feel a bit sluggish when you drive at higher speeds and, like many hybrids, it has smaller trunk space available.
#3 - 2018 Chevrolet Bolt
Now for the oranges. The Chevy Bolt blows the competition away with its lithium-ion battery pack that can drive an EPA-estimated 238 miles. Compare that to the 2018 Nissan Leaf at 151miles or the Hyundai Ioniq EV at 124 miles. Tesla has a few EVs which can beat it but at a much higher price range. The current Model 3 can barely outdrive the Chevrolet Bolt.
The Chevrolet Bolt has an incredible driving range, a quiet, roomy interior, great handling, and comes with a trove of standard features. It does come with a higher price tag as well though, and the cabin materials are not as impressive in light of this price.
#2 - 2019 Toyota Avalon Hybrid
For a large sedan, the Avalon Hybrid gets some good mileage at 43 mpg inside the city and 43 mpg out on the highway. No other large car can hold a candle to those ratings. By paying an extra $1000 for the Hybrid version of the Avalon, you will save about $700 per year on gas. You can save on gas even in comparison with some smaller, midsize hybrids, such as the Hyundai Sonata Hybrid.
Along with these wonderful mpg ratings, the Avalon provides a smooth ride, spacious seats, and an upscale cabin compared to many other hybrids. The downsides are its high base price and lower power at times.
#1 - 2018 Toyota Camry Hybrid
The Toyota Camry Hybrid got even better fuel-efficiency after its redesign this year. The LE trim gets 51 mpg in the city and 53 mpg out on the highway. The higher trims are a bit less fuel-efficient but still get you a decent score of 44/47 mpg city/highway. With the Camry Hybrid, you'll spend about the same on gas as you would with a Toyota Prius, but with a bigger car.
In addition to its record-making fuel economy, the Camry Hybrid offers a more comfortable ride, spacious seats in the rear, and one of the biggest trunks of all the hybrids. It has a somewhat sluggish CVT, and although it has many available features, it is not as tech savvy as some of its rivals.
Tesla has promised a Model 3 that can lead the way in eco-friendly cars but has not been able to match mileage to affordability. We can expect some shifting in the ranks when Musk finds the formula to make that happen.
Tags: Buying Guide, Hybrid
Take a look at our Featured News