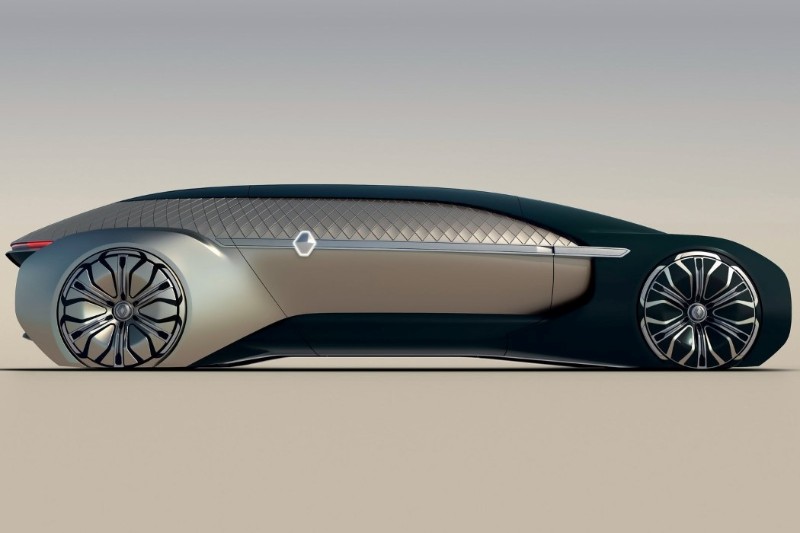 We typically don't' get overly excited about concept cars or the marketing lingo to describe them – but the Renault EZ-Ultimo is an exception. How often do you come across a design that is like a teenager challenges everything that you know about that category? The Renault EZ-Ultimo is exactly that. Sure, it has wheels, doors, seats and a motor that allows you to get from point A to B – but this concept is not your average concept car. In fact, it could be best described (by the Renault marketing and PR folks – so we can't take credit for it), as a "Ultimate Palace on Wheels".
The Renault EZ-Ultimo concept car made its debut at the recently completed Paris Auto Show. Like most European manufacturers, Renault wanted to take advantage of the eclectic and fashion-enhanced audience. So – what makes the Renault EZ-Ultimo different than any other concept car that will likely never see the light of production daylight? Several things.
First and foremost is the gold appointment, not just splattered strategically, but pretty much embedded throughout the interior and exterior. However, it's not gaudy or over the top. In fact, the blend of gold is carefully balanced with black – which really makes it appear elegant. The strategic use of curved glass enhances the ambience. One jealous automotive journalist onsite referred to this vehicle as a 'Monet painting on wheels'. With an interior that would fit inside a five Diamond resort hotel in Dubai, the description is factually accurate.
The EZ-ultimo is additionally fitted with wood floors, leather seats, with even marble work that gives the car the feeling of a room over a car. Along the side of the seats are the marble seats. A hanging gas-lamp inspired lighting treatment dangles from the roof for interior illumination. A single, swiveling-captain's chair is centrally located up front, with a rear 'bench seat' – for comfortable seating for (3) passengers. On the roof, a set of segmented glass panels allows natural light to soak into the interior, while the sides have a lattice-like structure, with blacked-out windows for enhanced privacy for those inside. Since this vehicle is being targeted to high-scale resorts with ultra-rich cliental – the vehicle is appropriately appointed.
So – what about the powerplant? To be honest – Renault didn't disclose this rather important data. They did indicate that it would be a Level-4 autonomous driving vehicle, requiring a human occupant to take over during certain driving situations. Whether or not this ultra-elegant Renault every sees the light of day – who knows for certain. However, they definitely get style points for certain.
Tags: Concept Cars, New Model
Take a look at our Featured News