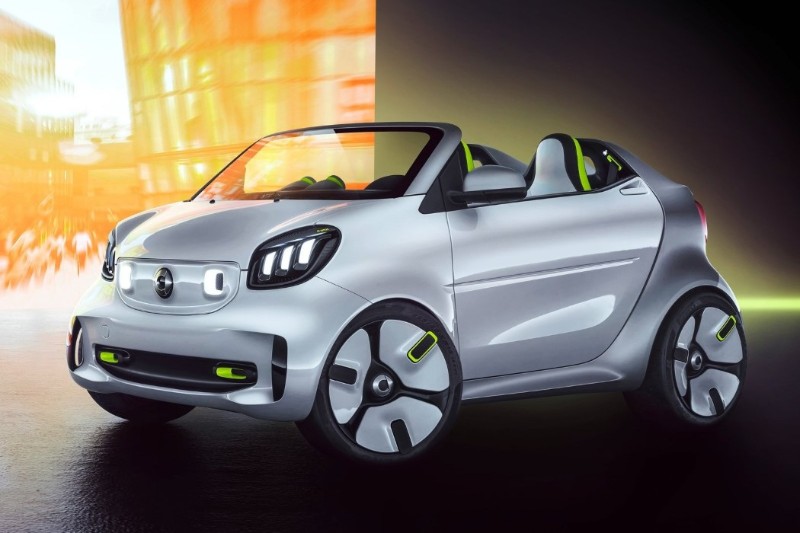 Celebrating their 20 year of operation, Smart revealed a new electric-powered concept vehicle named the Forease recently at the Paris Motor Show. The Subsidiary of Daimler AG has created the Forease EV concept car for casual around town driving during optimal weather conditions (due to the lack of a roof). Taking styling input from a 1970's style dune buggy and integrating modern EV technology, the Forease EV is not only unconventional, but visually striking as well.
This roof-less (not a convertible – it's literally sans roof) is not intended to for the general consumer market. Instead, this vehicle (if it reaches production) would be targeted to high-end country clubs, resorts, and other posh vacation communities for visitors to casually drive on beautiful, sunny days. According to Smart's chief designer, Gordon Wagener, "The Smart Forease is proof that smart thinks unconventionally. Its design is reduced and pure. The smart Forease is a statement of urbanity and individual style. It has the coolness of the metropolis and demonstrates a truly free spirit."
So – essentially, it's a cool concept without any real practical around-town driving application. It is quite visually stunning however. With an open cockpit design, the Smart Forease would be an exceptional beach community cruiser. This EV concept features acid-green color trim, unique-designed headlights and taillights, and integrated door handles that fit flush along the door. The steering wheel is something you'd see in an airplane or futuristic flying car to be precise.
Smart is not a consumer division of Daimler AG, which gives them the flexibility to develop new technology that can be shared amongst the Daimler AG brands. In fact, it's quite doubtful that the Forease will ever see the light of day. The main objective of debuting the vehicle at the Paris Motor Show was to showcase new technology and styling capability. If Smart were to offer the vehicle to consumers, it would likely be a special order vehicle for niche-based consumers.
Tags: Concept Cars, Electric Cars, New Model, Reveal
Take a look at our Featured News