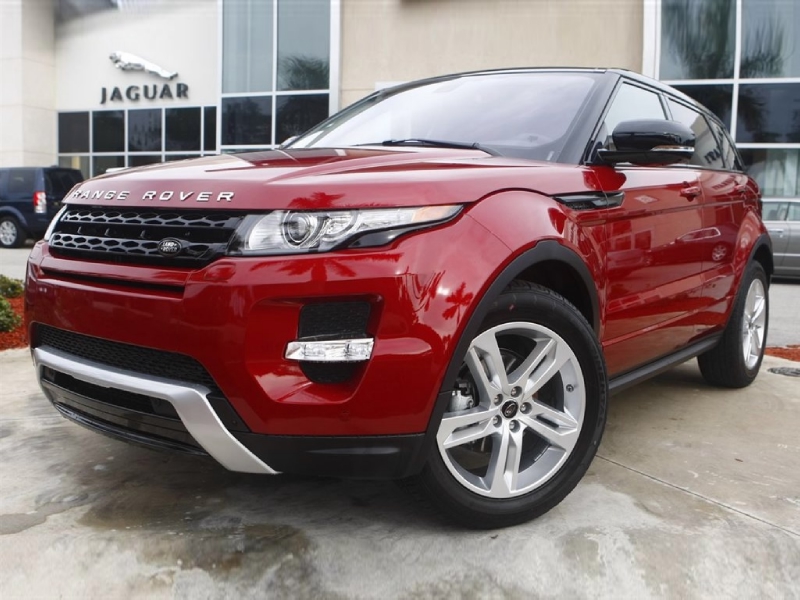 Named the North American Truck/Utility of the Year in 2012, the Land Rover Range Rover Evoque is now in its second model year. Already considered to be somewhat of a success, this year's Evoque gets a new entry-level trim that lowers its base price and allows it to better compete in the crowded luxury crossover segment.
Pricing and Competition
Though the 2013 Evoque's starting MSRP is $2,000 less than it was in 2012, at $41,145, it's still near the top of the segment in terms of pricing. With base MSRPs ranging from $34,350 to $43,280, the Evoque's primary competitors include the Volvo XC60, Acura's MDX, Audi's Q5 and the BMW X3.
Available Trims and Packages
The five-door base trim Evoque comes standard with a rearview camera, 19-inch wheels, front and rear parking sensors, climate control, power front seats, leather upholstery accents, a touchscreen console display, a CD player, a power liftgate, and several auxiliary and USB audio jacks.
For an additional $2,000, you can upgrade to the "Pure Plus" package and your Evoque will get a panoramic sunroof and leather upholstery throughout. The "Pure Premium" package, however, includes a 360-degree parking camera, xenon headlights, a blind spot warning system, keyless entry, a 10 CD changer, and a voice controlled navigation system. Also an option on the base trim is the sportier "Dynamic" package, which features a rear skid plate, perforated leather and additional color and wheel choices. The most comprehensive package for the five-door—the "Prestige" package—provides additional front seat adjustment flexibility and a more luxurious interior.
If three doors are all you need, the second and highest trim level is the Evoque Coupe. Starting at $44,995, the slightly shorter Coupe already includes a panoramic glass roof. It can be paired with all packages mentioned above except for the "Dynamic" package.
Engine and Fuel Efficiency
Whether you go with the base trim or the coupe, the 2013 Evoque is powered by the same 2.0L turbocharged 4-cylinder engine. Paired with a 6-speed automatic transmission, it's capable of 240-hp and can reach 60-mph in 7.1 seconds. Thanks to an improved aerodynamic design and its reduced weight, the 2013 Evoque is the most fuel efficient Land Rover ever produced. The EPA rates its fuel economy at 28-mpg on the highway, 20-mpg in the city and 22-mpg combined.
Performance and Design
Upon its debut, the 2012 Evoque was well received altogether, but its performance and design particularly pleased automotive experts and consumers alike. With that in mind, we weren't disappointed to find that Land Rover didn't make too many changes in either area between model years. The 2013 Evoque still provides passengers with a comfortable and surprisingly fast city ride, while also performing well enough off-road to appease Land Rover's faithful 4x4 fans who initially criticized the brand for marketing an "urban SUV." As far as design goes, while it still looks nothing like a Land Rover, the 2013 Range Rover Evoque is definitely one of the better looking crossovers on the road today.
Sources:
Auto Blog
,
Edmunds.com
Tags: BMW X3, BMW, Audi Q5, Audi, 2013 Land Rover Range Rover Evoque, Land Rover Range Rover Evoque, Land Rover, Reviews
Take a look at our Featured News