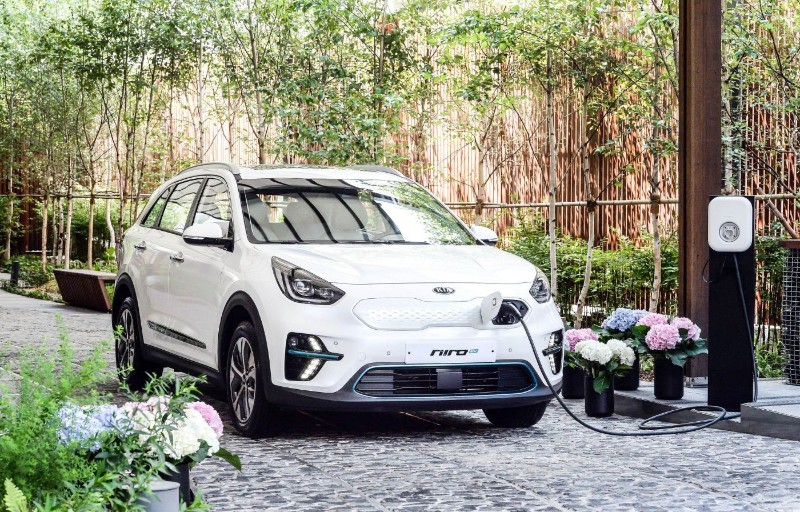 All hail the electric-powered king – well, for now. Kia's latest entry to the electric-powered crossover segment, the Niro EV has recently received a mileage rating of 300+ miles – the most in this highly competitive and growing consumer segment. While official EPA-estimates are not quite ready or public domain, Kia has publicly stated that its Niro EV electric crossover travels more than 300 miles per charge.
The Kia Niro EV with this new electric powerplant is set to debut in Europe later in 2018. While US consumers will have to wait for this technology to hit it's shores till at least 2019, Kia is standing proud on this hugely impressive mileage rating, which is mainly attributed to the efficiency of current electric vehicles offered by Kia and their EV partners at Hyundai.
The 2019 Kia Niro EV is equipped with a single, 64-kWh of battery capacity on board. With this small power cell, exceeding 300 miles was not expected. According to Kia, the official mileage rating is firm at 301 miles. While they are touting this number for now, it's likely that the official EPA-estimated mileage rating will dip slightly below the triple-century mark. Kia's partner in this venture is Hyundai, who has recently announced that it's own Kona Electric (essentially a clone of the Niro EV) is rated at precisely 300 miles.
The 2019 Hyundai Kona Electric in US-trim offers an impressive EPA-rated 258 miles of range and will be arriving to US Hyundai dealerships within the next few months. Due to the Hyundai's official rating vs. the EPA estimates, it's likely that the Kia Nero EV will get a huge dose or government regulatory reality and be rated by the EPA around the 260-mile mark.
The 2019 Kia e-Niro is expected to make its European debut at the Paris Motor Show next month and will enter the European sales market shortly after. Along with the 64-kWh battery, a less expensive 39.2-kWh version of the Niro EV will be available to consumers later in 2019 or 2020 perhaps. Automotive enthusiasts are already calling the Niro's two battery pack options the big block and small block variants. One impressive stat about the 64-kWh version of the Niro EV is it's unique ability to recharge from empty to an 80 percent capacity in less than an hour. It also can accelerate from zero to 62 miles per hour just shy of 8-seconds.
Tags: Electric Cars, New Model, News
Take a look at our Featured News