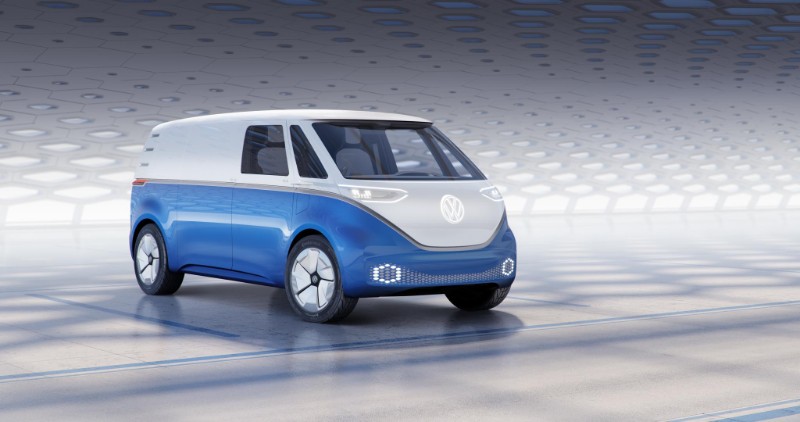 Europe's largest automaker has a new electric toy being strutted down the automotive new vehicle circuit. Recently debuted during the Commercial Vehicles show in Hannover the Volkswagen I.D. Buzz Cargo is the latest Modular Electric Drive Kit vehicle to come from the creative geniuses in Wolfsburg. Taking cues from it's sibling, the I.D. Buzz, the new cargo-edition is a larger workhorse, featuring three-way front seating, smartphone-linked digital features, and a slew of upgrades focused on the commercial segment.
The new VW I.D. Buzz Cargo is a workman-like electrical powered cargo van on steroids. Besides the front row seating, the entire van is plain, which provides ample room for storing and hauling whatever you can stuff inside the payload. The Buzz Cargo features a rear-axle overhang that is 4.1-inches longer than its sibling. The storage area itself features a fold-out workbench that includes a 230-volt, 16-amp outlet that is connected to the battery for easy use of power tools inside the Buzz Cargo.
While the Buzz Cargo is designed as a commercial vehicle, it does include some interesting interior features. A head-up on the windshield displays vehicle information for the driver to access. An in-vehicle tablet is added that controls the infotainment and climate control systems. On top of this electric-powered van is the juice box, or more accurately a solar panel. This range booster is capable of gathering enough energy from sunlight during the day to add 9.3 miles of range to this electro-van's battery.
The battery that powers this e-van is embedded into the floor of the Buzz Cargo. The Buzz Cargo will offer consumers two battery options; a 48-kilowatt per hour option for the urban jungle, and the 111-kWh battery which is designed for longer distance driving. According to VW, the Buzz Cargo will have a 340-mile range. Volkswagen is hoping to debut the I.D. Buzz Cargo sometime in the middle of 2020, featuring a few of the semi-autonomous goodies including the ID Pilot automatic driving system.
Tags: Electric Cars, New Model, News, Reveal
Take a look at our Featured News