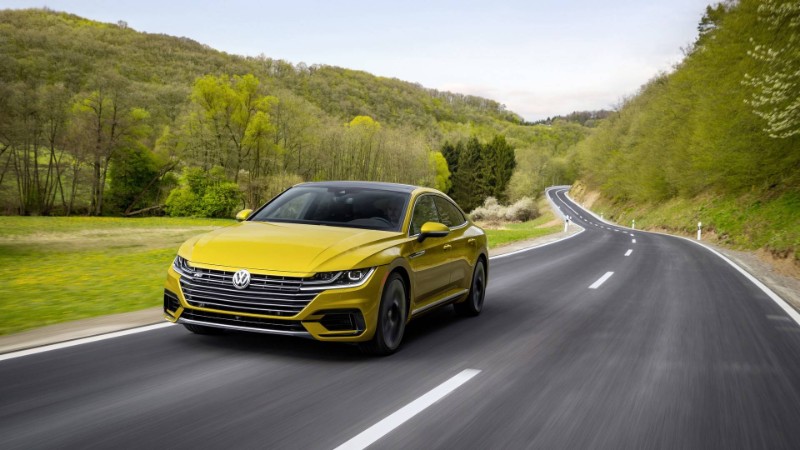 Volkswagen has seen enough emissions problems to last three lifecycles. The highly anticipated Volkswagen Arteon has been delayed for its launch in the United States, with many automotive enthusiasts questioning why. Well, in a recent report it was discovered that delays in the US emissions certification process have temporarily stalled the official launch, expected for early fall and winter of 2018.
The 2019 Volkswagen Arteon is the replacement for the popular Passat CC. The main difference is under the hood. Gone is the trustworthy six-cylinder, replaced by a turbocharged, 2.0-lilter direct-injection TSI four-cylinder engine. This new engine is capable of producing 268 horsepower and 258 pound-feet of torque. Power is applied to either a front-wheel or all-wheel drive system via an eight-speed automatic transmission. A manually gear shifted option is not currently on the plate for US production.
Consumers can select one of three unique trim levels, the base SE, SEL, and range-topping SEL Premium. Each trim is propelled by the same powertrain combination – with all-wheel drive being offered as an upgrade on all trims. While pricing has not yet been officially released, it is expected to come in slightly higher than its predecessor – yet a tick under competitors including the BMW 4 Series Gran Coupe and its German cousin the Audi A5 Sportback. VW's choice to swap out the reliable six-cylinder engine with the turbocharged four-banger means it will likely not compete with the popular Kia Stringer GT AWD.
As it's widely reported, VW faced tremendous scrutiny due to faulty emissions settings on several of their turbo-diesel production vehicles made from 2008 till 2013. These cars, trucks, and SUV's would report false NoX levels during emissions testing, due to a manipulation with the computer's software, that would richen the fuel mixture during emission testing. While in manual operation, the fuel trim was leaned, which improved fuel economy, but produced extremely high vehicle emissions.
Along with delay in the official launch, VW has also cancelled the media and promotion tour for the 2019 Volkswagen Arteon. As soon as the bureaucratic emissions related delay has passed, we expect a full on PR blitzkrieg to come from the Wolfsburg HQ.
Take a look at our Featured News