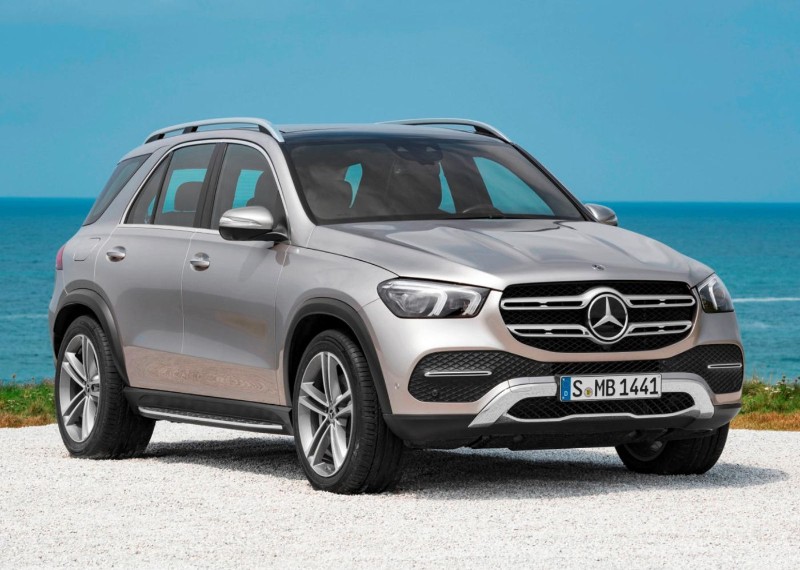 The German-based automaker has recently debuted the 2020 Mercedes-Benz GLE. The sleeker GLE is considerably bigger, yet more fuel efficient and filled with more tech and more luxurious than previous editions. Armed with a suite of safety and driver assisted services, the new GLE is set to arrive to North American dealers in late 2019.
The GLE (which was previously marketed as the M-Class prior to 2015) is loaded with new technology that helps to improve drivability including Active Tailback Assist, E-Active Body Control, Turn-Off Function, 4matic AWD, and improved seating stance and comfort.
The newest tech and performance feature, referred to as E-Active Body Control is an active suspension system that utilizes a 48-volt electrical system that has been integrated along with an air suspension system. The E-Active Body Control enables the damping and spring forces to be controlled independently at each wheel. The system reacts to not only body roll, but also the squat and pitching that occurs through performance driving.
Active Tailback Assist is another proprietary performance-based driver-assist system that is making a debut with the 2020 Mercedes-Benz GLE. It recognizes tailbacks in earlier stages and driver support during stop-and-go traffic – with capability up to 37 miles per hour. The 4matic all-wheel drive system features torque on demand – which is a first for the German automaker and offered with 6 and 8-cylinder engines.
The GLE is bigger thanks to a longer wheelbase that results in increased interior space and added third-row optional bench seat. Naturally, there is expanded legroom in the second row, and corresponding luggage capacity and headroom as well. Two high-resolution screens are featured front and center of the dashboard, with most functions accessible through the touchscreen interface.
The GLE is also infusing some artificial intelligence features. For example, the onboard AI notes common radio stations used during specific times of day, such as on the way to or back home from work and will recommend them based on user experience. Six-way power rear seats and a 17.8-inch head-up display are among some of the advanced tech features on display with the 2020 Mercedes-Benz GLE.
Now to the meat and potatoes. Under the hood of this new GLE is the familiar MB 2.0-liter turbocharged four-banger that belts out 255 horsepower and 273 pound-feet of torque. Consumers can opt to upgrade to a 362 horsepower six-cylinder engine that is paired with the 48-volt technology in the GLE 450. Official pricing has not yet been announced, and more details will be coming as we get closer to the vehicle's launch.
Take a look at our Featured News