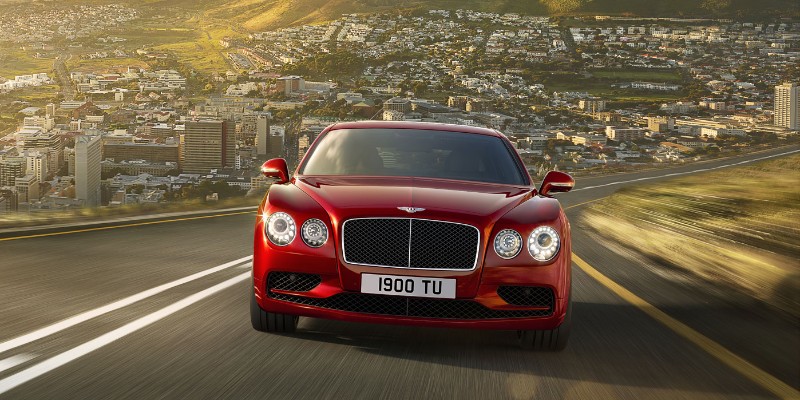 Bentley, a former race-car manufacturer, has returned to its initial purpose of producing very fast executive-style sedans and coupes. These beautiful cars are powered by the technology of Volkswagen's turbocharged W12. Embracing this long racing heritage has Bentley once again flying the "Winged B" in classy company.

If you are looking for speed and style, you have plenty of options with Bentley. They have four main models, with several submodels for their Continental. Here is a brief summary of what each model has to offer.

Bentayga
Bentley's are a kind of collector's item for the elite. The Bentley Bentayga is the only non-sedan model by Bentley. This is an SUV that offers status, style, and world-class refinement. It has exceptional performance built around an interior of comfort. It is not just for show though. It can hold its own off-road, and it is fully customizable.

The 2017 Bentayga starts at a whopping $229,100, and here is what comes with it. It comes with a 12-cylinder engine, a power liftgate, surround-view camera, off-road skid plates, and an automatic parking system. There are also many advanced safety features that come with it.

When it comes to options, you can get over $50,000 worth to customize your Bentayga to your own delight. Some of these options include special paint jobs, an adaptive cruise control, more advanced safety systems, and features, premium audio, a fold-out tailgate bench, and rear seat entertainment and comfort features. The most famous option though is a Breitling tourbillion clock that costs $160,000. Breitling can only make 4 of these clocks each year so expect a long waiting line for this exclusive item.

The downside (other than the cost) to the Bentayga is that many of these fancy options, such as a built-in fridge unit and silverware containers, take up valuable seating and cargo capacity. Also, many of the Bentayga's rivals offer the same amount of power for a hefty discount. The bottom line is, if you want to show off and make an impression with an SUV, you will not find a better way to do that than with a Bentley Bentayga. If you want pure luxury and power for yourself, there are other options out there that are less expensive.

Continental GT
Bentley is synonymous with customization. The Continental GT is an excellent testament to this longstanding value. It begins with the options of either a V8 or W12. The "base V8 model is $20,000 less and gets an additional 4mpg, so unless you absolutely have to have 12 cylinders, you can get quite a lot of capability.

Let's take a closer look at that capability. The 2017 Bentley Continental GT has 633 horsepower and gets 15/mpg in the city and 25mpg on the highway. Why such a big split? Bentley's technology shuts down several of the cylinders on the engine when the pedal is not engaged, saving you additional gas mileage when the cruise control is engaged. As soon as you hit the pedal, the cylinders are re-engaged. The best part of this technology is that they can turn on and off without you even noticing.

The interior craftsmanship of the Continental is out of this world. It is a joy to drive, and the customization possibilities are infinite. The only downsides are the price and the weight of the car. The powerful engine, which can get above 200mph is heavy and makes it a little harder handling on the road. The Porsche 911 may be a better choice for handling, and price as well. However, if you are looking for luxury and style, the Continental can compete with Aston Martin and Maserati, and generally offers a wider variety of options. Save yourself an extra $20,000 and go for the V8 engine. The rest is up to your own taste.

Flying Spur
Autoweek podcast has dubbed the Flying spur a "200mph living room." It is a 500 horsepower engine covered up in comfort and regality. What separates it from the Continental? 140 pounds of torque, 133 horsepower, and 1mpg fuel economy. The Bentley Flying Spur is the sleeker, more sumptuous version of the Continental.

What would draw you to the Flying Spur? More space and even more luxury. 500 horsepower in a sedan is nothing to disregard, and the Flying Spur gives you an extra seat in the back. It is the XL (for eXtra Luxurious) version of the Continental.

What are the downsides? This Bentley has plenty of bells and whistles to go with it, but they are classy, traditional types of bells and whistles. If you are after the latest in technology you may be looking at the wrong model for this. Other than that, this car will keep you secluded away from the outside world with its tiger sized engine that purrs like a kitten.

Mulsanne
For most people, the idea of living in a car is a terrifying thought. Those who are lucky enough to own a Mulsanne know of houses that would be far worse to live in. The Bentley Mulsanne is the flagship of Bentley, and they have poured absolutely everything into it. Its interior is flawless, it comes with every amenity you could dream of, and you could ride in it for days without hearing a sound or feeling a bump.

You can count on one hand the number of cars that compete with the Mulsanne in its craftsmanship and offering of luxury - and several of those competitors might be better categorized as a limo than a sedan. The Mulsanne is large and heavy, but it does not drive like a barge. It carries its weight with regality and unhindered stately stature. The special air-ride suspension and larger wheels, combined with that weight, take it smoothly across most roads without you even noticing how fast you are going. Depending on the kind of driver you are, that might be a downside.

There are about 300,000 downsides to purchasing a Mulsanne, and all of them have George Washington's face on them.

What to look out for in used Bentleys


1. Fallen Headliners - These are easy to spot but difficult to repair well. To completely fix this it takes a new assembly which costs several thousand dollars.


2. Tire Pressure Monitors - These come standard with many Bentley's and have a design life of about 8-10 years. Their replacement runs around $3,000


3. Brakes and Brake Hoses - These also need to be replaced every 8-10 years. The hoses and brackets cost over $2,000, and a complete brake job can be anywhere between $3,000-10,000


4. Tires - Tires vary widely with Bentley's but tend to be toward the upper end. These replacements can cost anywhere from $300 to $1,000 per tire.


5. Engines - Last, and most costly of all is the engine. Be wary of a Bentley that has not been serviced regularly. The sludge buildup will clog the engine and cannot be adequately cleaned without a complete teardown. That job can cost you $50,000. You might find a separate used Bentley for that kind of money.
Most Bentleys have an excellent history of internal mechanical usage compared to many other cars. However, if they sit for 3-4 days, the battery loses charge, causing error codes to pop up. An easy solution for this is to keep them charged regularly when you are not driving them consistently. Chargers can be bought directly from the company, or generic ones can be adapted for this task.

As always, be sure to get any prospective vehicle looked over by a certified Bentley technician before you purchase it. Also, be prepared to budget a substantial amount for maintenance and upkeep of the vehicle.
Image source: bentleymotors.com
Tags: Buying Guide
Take a look at our Featured News