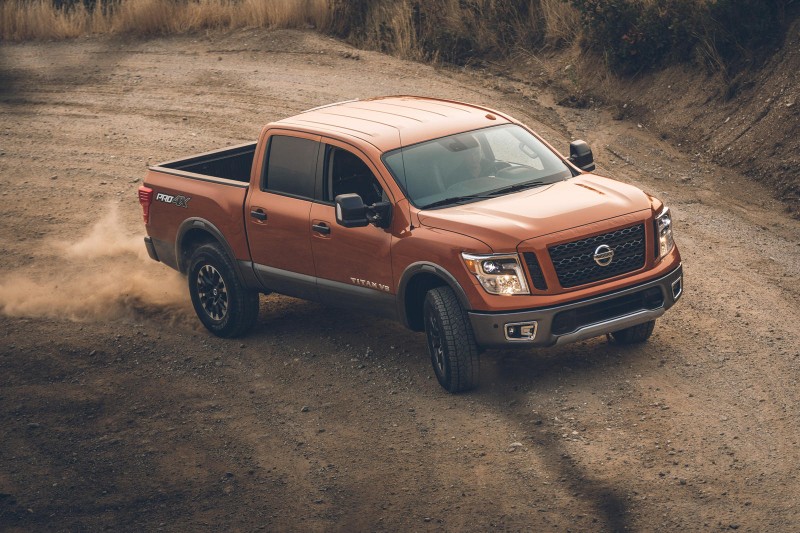 They say that everything is bigger in Texas. Unfortunately, this includes the shattered expectations of Nissan pick-up enthusiasts. Coming into 2019, word on the street was that Nissan was set to debut a new V6 powerplant that would add more torque, power, and pack more "umph" under the hood of Nissan's reliable mid-sized pick-up. However, the 2019 Nissan Titan and Titan XD debut at the recently completed Texas State Fair was sans meaty powerplant. However, the new Titan and Titan XD feature tons of new tech, that are turning heads in this competitive segment.
The Titan is Nissan's most popular truck offered by the Japan-US based manufacturer. The new Titan was showcased at the Texas State Fair and drew quite a crowd. There are some big Technical changes with the 2019 Titan, before we get geeky let's start with the exterior changes. For 2019, consumers will get a bit of a color change with Moab Sunset and Midnight Pine being added to the standard exterior color pallet.
Now for the Geeky stuff - Nissan replaced the previous five-inch display with a larger seven inch "NissanConnect" Infotainment display that includes both Apple CarPlay and Android Auto. With the cool larger screen, the Titan also added more USB media and charging ports – which is a nicely added feature for those long adventures and removes the fist-fighting over charging ports. Nissan also has the Rear Door alert for all King and Crew Cabs. Selected models can also include a Fender Premium Audio System. This Premium Audio System includes a 485-watt, 9-channel amplifier and Panasonic's Proprietary Acoustic Motion Control.
As we teased initially, the debut was a heartbreak for Nissan fans excited about the long promised V6 engine enhancement. According to Nissan PR specialists strategically onsite, we'll have to wait till 2020. So, in the meantime, consumers choosing the 2019 Nissan Titan can opt for the 5.6-liter V8 engine that produces 390 horsepower and 394 pound-feet of torque. That engine is paired to a seven-speed automatic transmission that can go along with an optional four-wheel drive system. The Titan XD has the same horse under the hood, but it also available with the 5.0-liter Cummins turbodiesel V8 engine that develops 310 HP and 555 lb-ft of torque.
Take a look at our Featured News