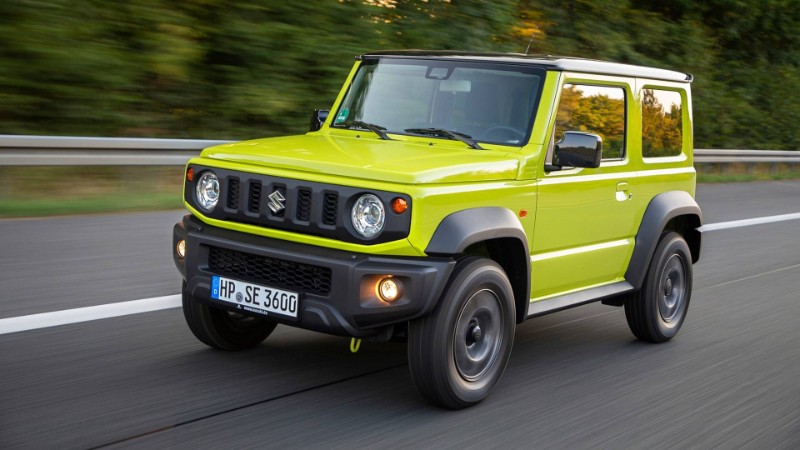 Suzuki's aren't really known for their extensive range – but the new Jimny is trying to chop down this stereotype. The new 2018 Suzuki Jimny is not your average, everyday SUV. In fact, it's off-road capacity is mountain goat like. This fourth-generation Suzuki SUV might be squarish, but it's slowly evolving into a contender in this competitive international segment. Let's take a closer look at the latest Jimny – the off-roading SUV that North American consumers will likely never get an opportunity to purchase.
In the past, the Suzuki SUV's have been no-frills, rather mild off-roaders that are purchased by consumers looking for something to use and abuse. That's not the case with the latest Jimny. The 2018 Suzuki Jimny adds a rounded grille (similar in many ways to the Mercedes-Bens G-Class), rounded fender flares, and even some interior appointments that can compete head to head with Jeep Wranglers (no kidding).
This short-wheelbase off-roader features a total length of 11.9-feet and a wheelbase of 7.4-feet. The short stance makes it a great rock climber. Some exterior flair includes a G-Class inspired rain gutter on top of the roof, for improved distribution of the wet stuff. The Suzuki Jimny also features exchangeable turn signals and headlights and features about half of an inch more ground clearance than last year's edition. In total, the 2018 Suzuki Jimny features a total of 8.3-iches of ground clearance – which is rather impressive for its short stance.
A glance under the hood might surprise you. While Suzuki's typically are powered by their popular turbocharged three-banger, the 2018 Suzuki Jimny receives motivation from a 1.5-liter, naturally-aspirated petrol-burning engine. This engine belts out nearly 100-horsepower and an almost-equal 95 pound-feet of torque. Since this new Jimny is roughly 30 pounds lighter than previous variants the power to weight ratio has improved – which helps the climbing and off-road driving capability.
All in all, the new 2018 Suzuki Jimny is a rather impressive tiny off-roader. However, here is the bad news for North Americans – we'll likely never see one or have the opportunity to buy one. Suzuki is offering this SUV exclusively in Europe, Asia and Australia.
Take a look at our Featured News