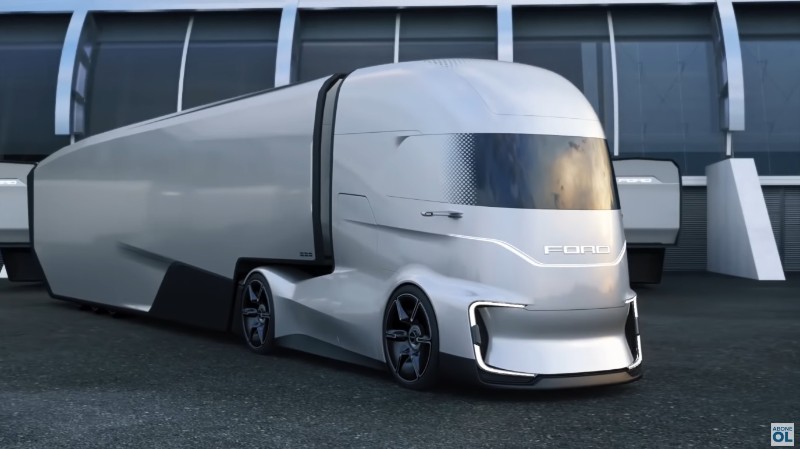 The iconic Blue Oval is about to get an electric enhancement. A recently published report indicated that the Detroit automotive giant (well, Ford Otosan – which is the Turkish Ford Division) and California-based electric-powered vehicle pioneers are about to collaborate on a new EV semi – the F-Vision or Future Truck. Unveiled at the 2018 IAA show, this concept semi-truck is built Ford Tough, with Tesla spices of electronic technology, making it chock-full of tech.
The Ford/Tesla collaboration will be built in the Turkey-based manufacturing facility where Ford Otosan is headquartered – and is being kept tight-lipped. This all-electric powered semi-truck will be a zero emissions vehicle, will feature level-4 autonomous driving capability, and a platoon function displayed through cameras instead of rearview windows. Speaking of windows, this futuristic semi is expected to have fancy features like automatically tinting windows, that form into the same color as the body.
The goal of this new partnership is to create a blueprint for other large truck manufacturers to follow – building a dependable and durable truck with long-range EV motors. The F-Vision is also expected to achieve full self-driving or fully autonomous capability sooner-rather-than-later, which really raised more than a few eyebrows at the IAA show.
For years, Tesla has been known as pioneers that revolutionized the EV marketplace. Their Model S, X, and 3's has been engineered to save consumers money and resources – attributes which inspired the Turkish Ford division to establish this partnership. While both manufactures have established solid reputations for placing an emphasis on vehicle safety – it's Tesla's visually-stunning creativity that has automotive experts claiming this F-Vision will make Optimus Prime blush with envy.
Like all vehicle concept announcements, it's going to be a while until we see the F-Vision placed into full production in Turkey. However, several 'spy's' near Tesla's test track near Draper, Utah have noticed a F-Vision 'appearing' semi-truck turning laps – with eyes on a 2020 production date.
Tags: Electric Trucks, New Model, Technology, Trucks
Take a look at our Featured News