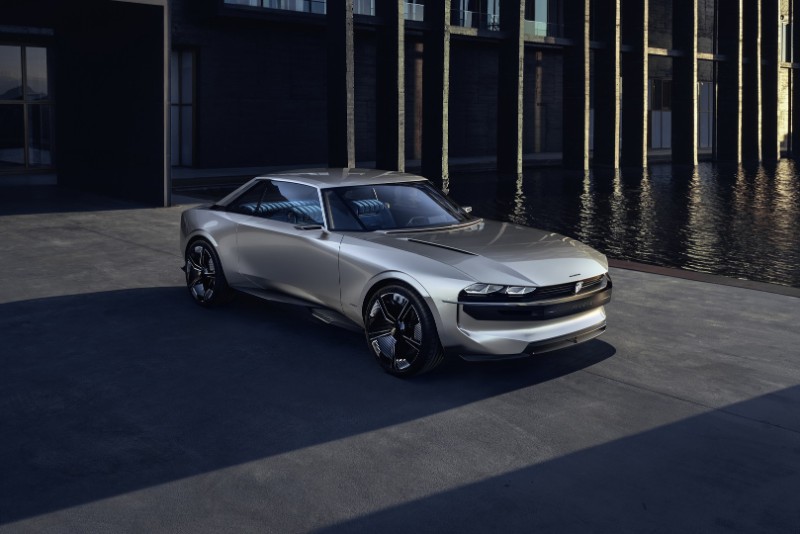 There is something to be said about paying tribute to the past – especially in the automotive landscape. A new retro-inspired Peugeot concept car is paying homage to the classic coupe design that made the French automaker famous in the mid-1960's. Debuting next month at the 2018 Paris Auto Show, the Peugeot e-Legend is a modern take on the classic 504-style Coupe of the legendary Pininfaria.
The Paris Auto Show is a showcase of European automotive giants to introduce their latest and greatest creations – that tend to focus on flash and style as opposed to technology. This made the perfect platform for the legendary French automaker to introduce the e-Legend. In fact, Peugeot is braking the mold per-say by introducing four-drive modes of the e-Legend, two of which are autonomous in nature.
This sleek-looking EV concept car is similar in many ways to the 504 Pininfarina that made its claim to fame in the 1960's. This quick and nimble coupe was often seen on the famous road-courses that Formula One cars would actively compete – but on city streets as well. The modern tribute maintains many of the Pininfarina's shapes, including double headlights, a faux grille, and square-shaped front fascia. To update this classic to modern-day standards, Peugeot equipped it with a full-electric powertrain and advanced technology that focuses on autonomous features.
The electrical-powered motor receives it's juice from a 100-kWh battery pack that has enough power to propel this vehicle for 373 miles while in WLTP mode (which is essentially an optimal 'fuel efficiency' mode for EV's). The BMW iNext autonomous concept stands on equal footing as the Peugeot concept. However, where the Peugeot really impresses is that it can deliver a 311-mile range after being charged for only 25 minutes. Peugeot's unique powerplant setup enables the e-Legend to apply 456 horsepower and 590 lb-ft of torque to the four-wheel drive system and accelerate from zero to 62 miles per hour in just shy of four-seconds. Thanks to electronic throttle stop, the e-Legend tops out at 137 miles per hour.
While this modern Peugeot is a tribute of days past – it focuses on forward-thinking automotive concepts including autonomous driving. However, only two of the drive-modes are automated. The autonomous driving mode is accessed in the "Soft" mode, which places a priority on passenger comfort and reduces the active screen displays. The "Sharp" mode keeps these screens activated and allows users to access the modern social media features.
The manual driving modes are called the "boost" and "legend". Each mode features a retro-inspired 504 dashboard display with virtual wood that is displayed behind. Seriously – Peugeot has pulled out all the strings – and those lucky enough to see this vehicle make its debut in Paris should take advantage of this opportunity, as it's unknown whether or not this concept will ever see showroom floors.
Image Source: Peugeot.com
Tags: Peugeot, Electric Cars, New Model, News, Reveal
Take a look at our Featured News