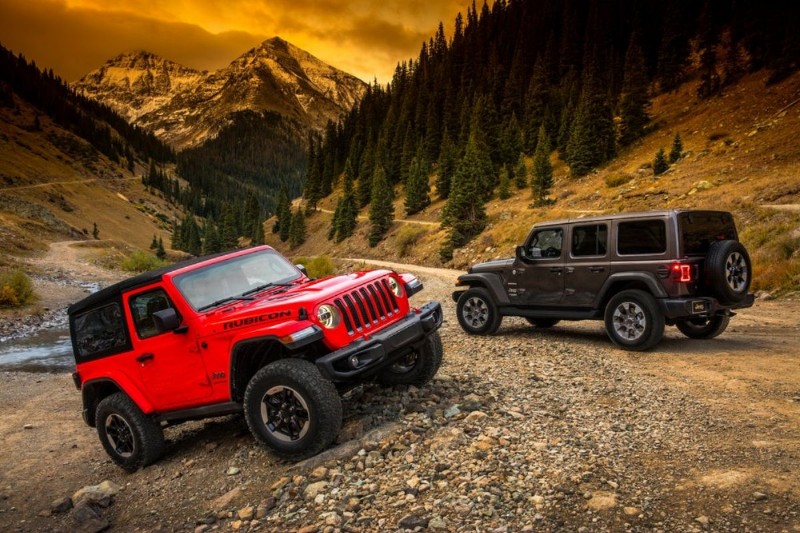 Fans of the plug-in hybrid will have something to cheer about when Jeep introduces this technology to their popular Wrangler SUV. While exact details are sketchy currently, the 2020 Jeep Wrangler Plug-In is expected to have the same powerplant and battery power that currently sits in the Chrysler Pacifica. The recent report also indicated, that Fiat-Chrysler is looking to add 30 certified hybrid-powered vehicles by 2022, with the Jeep Wrangler launch being a focal test to gauge the consumer interest.
According to the report, the 2020 Jeep Wrangler PHEV will be produced in the United States, at the Toledo Machining Plant in Ohio. The hybrid powerplant receives its power from a Power Electronics Module and Integrated Dual Charger (that features and on-board charger and DC/DC fast charging converter). Due to the unique platform of the Jeep Wrangler, the power-supply is expected to sit between the drive-shaft and exhaust, in a protective structure for possible off-road use.
The new Plug-In Hybrid is expected to stuff the same 3.6-liter V6 modified hybrid engine that is currently featured in the Chrysler Pacifica. The enhanced engine is modified to the Atkinson cycle for enhanced efficiency (with a reduction in power output) and paired to dual-electric motors, an electronically variable transmission (EVT) and a 16kWh battery back. This powertrain permits the Chrysler minivan to accelerate up to 75 mph in electric drive only mode with a range of 33 miles per charge.
One of the growing questions is the obvious difference in weight from the Pacifica and the Wrangler. The Wrangler sits at least 600 pounds heavier than the Pacifica. To offset the extra current weight, it is assumed that Fiat-Chrysler engineers will either shorten the wheel-base or Jeep will enhance the size of the battery packs. This would naturally reduce the economy of the Wrangler when compared to the Chrysler Pacifica in similar trim.
It is expected that Fiat-Chrysler America will release more information on the 2020 Jeep Wrangler Plug-In as we get closer to the expected release date. Information could come as soon as the upcoming SEMA show in Las Vegas in late October 2018. While the hybrid marketplace is growing significantly, whether the consumer base is ready and willing to shell out the extra cheddar for a plug-in hybrid Wrangler is yet to be determined.
Tags: Breaking News, Hybrid, New Model, Technology
Take a look at our Featured News