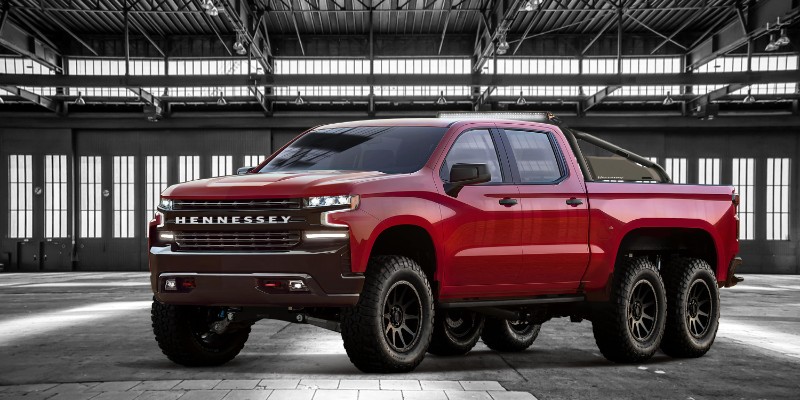 After Chevrolet's launched their Veloci-Raptor six-by-six, the Detroit automaker has been searching for a monster-like upgrade. The performance giants from Hennessey Performance have developed their version of the Chevy Silverado and have name this behemoth the Hennessey Goliath. The Goliath takes the already popular Chevy Silverado Trail Boss Z71 to a whole new world.
The first thing Hennessey did was to add more power. The most powerful engine configuration offered from the factory is a 6.2-liter V8 engine that belts out 420 horsepower and 460 pound-feet of torque. Hennessey take the base powerplant and has slammed a HPE700 Supercharger on top that produces seven-pound per square-inch boost.
The upgrades do not stop there.
The Goliath also includes a stainless-steel exhaust system, made for enhanced durability while off-road. The custom exhaust system also flows better exhaust through the engine, which increases horsepower output to an amazing 705 ponies – at 6,200 rpm. With these upgrades you can expect the 0-60 miles per hour time to be around 4 seconds.
"We are very excited to offer our new GOLIATH 6X6 alongside our VELOCIRAPTOR 6X6 truck," noted the company's founder & CEO, John Hennessey. "These are very exclusive and unique vehicles that make a huge statement anywhere our clients go – whether it's Rodeo drive or the sand dunes of the Sahara Desert."
Some of the Extra Hennessey Goliath six-by-six upgrades include:
Six by six conversion kit with axle, upgradeable breaks, wheels and, tires and breaks
A brand-new rear suspension kit
You'll stand eight inches taller with the Eight-inch lift kit
A custom-built six-by-six truck bed
20-inch wheels by Hennessey
BFG 37-inch off-road tires to get you through everyday internment
Some cool six-by-six Hennessey Goliath Graphics
The rollbar upgrade provides added safety for those unexpected upside-down adventures.
You can get a LED lights upgrade
Front and rear bumper upgrade
The Pricey 2019 Hennessey Goliath six-by-six can be purchased at the entry-level price of $375,000 – which does come with a 3 year / 36,000-mile warranty. Consumers also can get a stroker-motor upgrade, which produces a mind-numbing 808 horsepower, along with a Brembo Break kit upgrade.
Tags: Custom Trucks, New Model, Trucks
Take a look at our Featured News