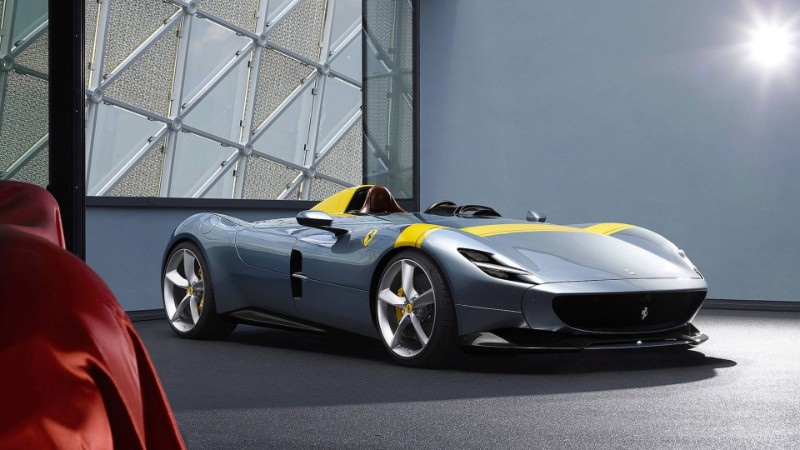 A new Icona series of Ferrari's are set to begin production according to a recent article. The new Monza SP1 and SP2 Speedsters were previewed via a Ferrari teleconference and are a part of the new segment that are inspired by classic Ferrari speedsters made famous in the 1950. However, these Monza's are more than simple special editions – they represent a new dedication from Ferrari to integrating new-technology and performance features to consumers.
According to automotive experts who have reviewed the data – these Monza's are built for speed. Ferrari stated that these cars will have the best power-to-weight ratio in the segment thanks to loads of carbon fiber strategically placed throughout the Monza SP1 and SP2. These limited-edition Ferrari's will also benefit from the most powerful engine to come from the Maranello-based manufacturer.
The new powerplant is a 6.5-liter V12 that belts out 809 horsepower, which is enough get up to accelerate the Monza twins to 62 miles per hour or 100 km/h in 2.9 seconds. What's even more impressive is that driver can achieve a zero to 124 mph standard in a shade under eight seconds flat. It is estimated that these Ferrari's will achieve top speed of 186 miles per hour (which will be limited electronically). The car is set to debut sans windshield or roof – which is why Ferrari is looking to introduce the Monza SP1 and SP2 and track-only vehicles.
The Monza SP1 is a single-occupant designed vehicle, as it features a single seat for the driver. A tonneau cover is stretched across the passenger side – similar to the open cockpit roadsters often seen on drag strips, with a smooth rear-deck polishing off the single-seat performance car. The SP2 offers potential owners a second-seat option (hence the 2 designation) – with minor wind screens in front of both seats, to defect air for better track performance.
Interior amenities are minimal as expected – which is why many industry insiders are convinced they will be branded as track-only vehicles. Pricing numbers have not been announced, but according to several insiders, these cars will be introduced via invite-only to dedicated clients and collectors and not available for public ownership.
Tags: Concept Cars, New Model, Reveal
Take a look at our Featured News