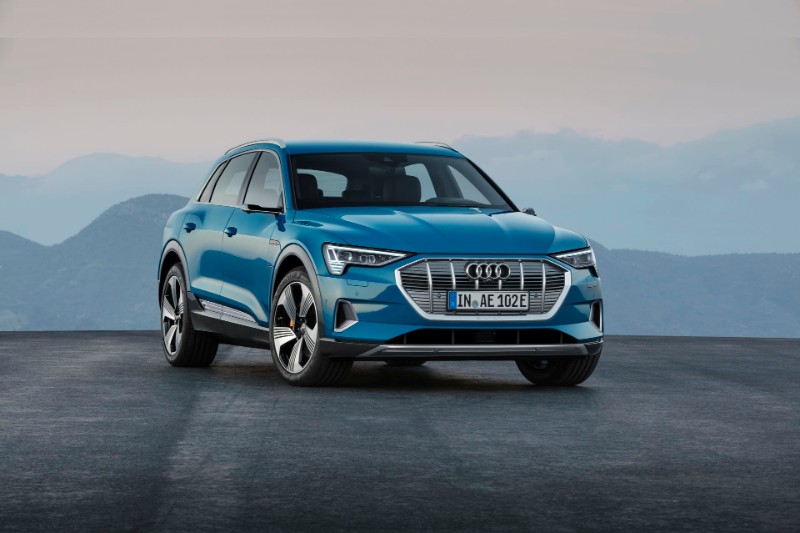 Move over Tesla – Audi's ready to step up their luxury electric-powered game when the Audi E-Tron hits the showroom floor. In front of a crowded room of over 1,800 automotive journalists gathered to San Francisco to introduce this new electric-entrant, Audi literally threw down and said they are ready to challenge Tesla and all other competitors in the E-car revolution.
The new E-Tron is a visually stunning and impressive battery-powered crossover that has a fresh and modern look. The front and rear axles have been extended to the ends of the front and back for maximum efficiency. Since there is no need for a combustion engine, the hood line is also decreased, for added aerodynamics and vehicle stability. It stands wide, features a large, octagonal grille with active shutters that make the exterior virtual eye-candy.
The Audi E-Tron is loaded with a pair of electric motors, one of them located centrally for optimal weight balance, with a central-mounted battery pack that delivers 187 horsepower to the rear wheels. The second electric motor sends 167 ponies to the front drive tires. The entire electrical-powered system nets 345 horses that can jump to an impressive 401 horsepower for ten-seconds by applying a "boost" program that amplifies front-wheel horsepower to 214. Essentially, Audi has added a nitrous boost to an electrical-powered car – cool huh?
With all that power, the E-Tron can accelerate from zero to 60 mph in 5.5 seconds. However, unlike Tesla's hundreds of AA-sized battery platform, Audi engineers have created a 1,541-pound battery cell. While official mileage range has not been announced, it's expected to be on par with Tesla's 250 mile range.
Driving an electrical-powered car for acceleration is indeed fun, but you have to stop that power quickly in many cases. For added safety, Audi has added a dual braking system that includes standard disc-brakes and a sophisticated regenerative braking system that functions as a single system as opposed to two-individual braking devices. Audi is also working with a group called Electrify America to add multiple charging stations to make it more consumer friendly. There are already 50 charging stations – mainly along I-10 and I-80, but the plan is to have an additional 450 charging stations installed by the launch date of July 2019.
Tags: Auto industry , Electric Cars, News
Take a look at our Featured News