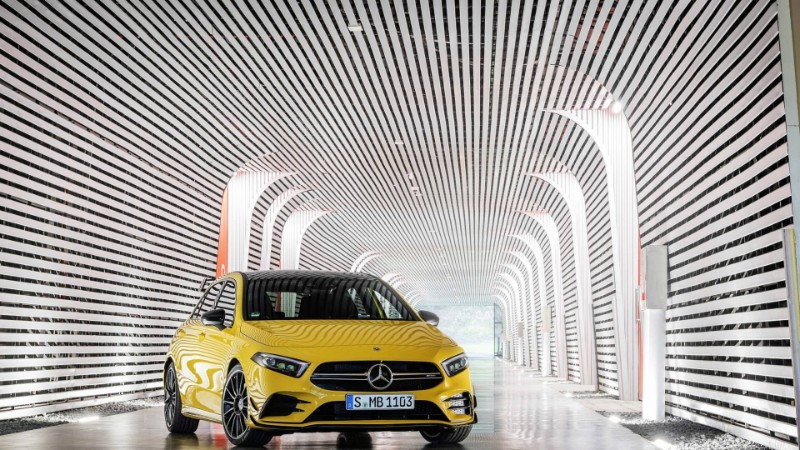 There are hot hatches – and then there is the new Mercedes-Benz AMG A35. This blazing hot hatchback was introduced recently in an attempt to create a buzz – and oh boy did Mercedes stimulate the hive. The new A-Class will offer consumers the A35 4MATIC, with a potent turbocharged 2.0-liter, seven-speed-clutch transmission applying more than 300 ponies to the ground.
The Mercedes AMG A35 is the latest offering from the engineering team from Stuttgart. This ultra-lightweight yet potent hatchback is an entry-level variant in the AMG A35 4MATIC series. Powered by a 2.0-liter turbocharged four-banger, this 306-horsepower engine applies 295 pound-feet of torque through a seven-speed dual-clutch transmission to the standard all-wheel drive system. According to Mercedes, this unique powertrain permits the A35 to accelerate from zero to 62 miles per hour in 4.7-seconds – and achieve an electronically-controlled top speed of 155 miles per hour.
Stopping this five-door hatchback is made easy – thanks to specially designed 350mm-front and 330mm-rear disc brakes, which have been perforated and ventilated, feature silver-embossed brake calipers with black lettering displaying the AMG moniker. Beyond the additional power and stopping power, the AMG A35 has been enhanced with lightweight aluminum suspension and steering components, ride control, and an AMG-specific steering knuckle.
The AMG also features multiple customized performance tweaks that improves handling characteristics that are designed for specific driving styles. The sport steering system includes a "slippery" driving mode that revises suspension and power settings for superior traction capability during cold and wet weather conditions. This system works by reducing power to the four-wheel drive system and offering a reduced torque curve which increases vehicle stability. It also upshifts earlier, provides a smoother shifting transition and activates the ECO start/stop system.
On the outside, the AMG A35 is more aggressive than its standard variant. The front end features a stylized front grille, aero-enhancements and a large rear-decklid spoiler. The rear diffuser is flanked with two exhaust tips, rounded for optimal exhaust flow, and rides on 18-inch aluminum wheels. The sad news for US consumers is that this AMG A35 is reserved for Europeans at the moment, however, word has it that an A35 Sedan will be offered for the US market soon.
Take a look at our Featured News