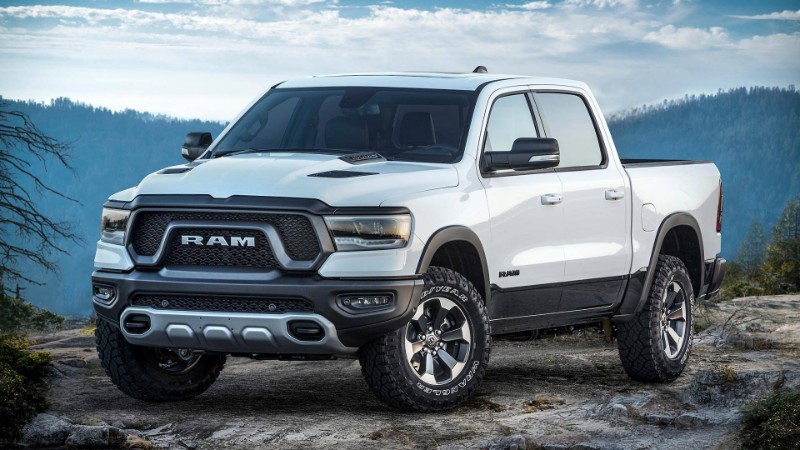 Consumers looking take modern conveniences with them off-road have a new Rebel to cheer for. The new 2019 Dodge Ram 1500 Rebel 12 is built for today's tech-savvy consumer looking for posh in their 4x4 pick-up. With modern tech including a robust infotainment system, a 19-speaker Harmon Kardon sound system, and even a mild-hybrid powerplant – the Rebel 12 comes impressively equipped to battle the urban jungle.
US automotive manufactures have been customizing vehicles with upgraded trim-levels that are targeted to unique consumers for years. Dodge has upped the ante for the off-road enthusiast in search of a enhanced pick-up – with modern conveniences that enhance comfort and on-road driving. With a starting price eclipsing $45,000, the new 2019 Dodge Ram 1500 Rebel 12 is a special, special-edition – meaning it's a true Rebel with a Cause.
At the forefront of the unique options is the 12-inch infotainment display, that has been swapped out from the standard 8.4-inch screen. Dodge continues to stuff the Rebel 12 with additional tech, including an impressive Hardon Kardon sound system with a 900-watt amplifier plugged into 19-speakers, a 10-inch subwoofer and active noise cancellation system. The interior is enhanced with leather upholstery, heated front seats, and metal speaker grilles that feature Radar Red anodized finish.
"Customers have been asking for additional high-end features on Rebel and now we're delivering with benchmark technology and materials wrapped in off-road capability," Jim Morrison, Head of the Ram Brand, stated.
High-end indeed. Unlike several special edition trim levels which are typically only offered on certain variants, the Rebel 12 edition is offered on all the Ram 1500 standard cab, color, and powertrain options. The standard Ram 1500 is equipped with a mild-hybrid 3.6-liter V6 powerplant that belts out an impressive 306 horsepower and 269 pound-feet of torque. Climbing up the power scale, consumers can opt for a 5.7-liter gas-guzzling V8 that hammers 395 horsepower and 410 lb-ft torque. Each engine is paired to an eight-speed automatic transmission, with less than stellar EPA-estimated mileage.
Consumers can really go ballistic by configuring their Ram 1500 Rebel 12 with off-road trim. In fact, the Rebel is standard with four-wheel drive and an electronically-locked rear differential. It rides on 33-inch Goodyear Wranglers, features skid plates underneath, and standard Bilstein shocks.
Take a look at our Featured News