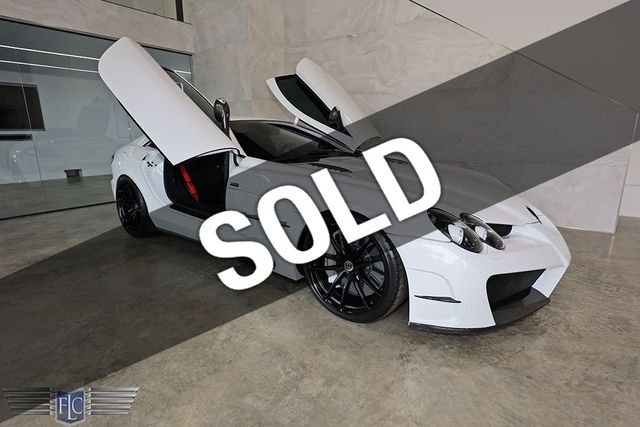 Details
Condition


Pre-Owned Clear Title

Engine


5.4L 8 CYLINDER

Drivetrain


Rear Wheel Drive

Interior


Black

VIN #


WDDAJ76F86M000700

Mileage


8038

Transmission


Automatic

Exterior Color


White

Stock #




Warranty



The 2006 Mercedes-Benz SLR McLaren is a supercar that was jointly developed by Mercedes-Benz and McLaren Automotive. It is the result of the partnership between these two iconic companies, bringing together Mercedes-Benz's luxury car expertise and McLaren's motorsport and high-performance engineering. The car features a unique design that combines sleek aerodynamics with an aggressive stance, making it a true head-turner on the road.

Under the hood, the SLR is powered by a 5.4-liter supercharged V8 engine that produces an impressive 626 horsepower and 580 lb-ft of torque from the factory. However, this car was sent to Renntech to get a complete engine makeover.

Renntech upped the horsepower to make this car's output close to 800 horsepower, which allows this car to well exceed its original 207 mph top speed.
Some Renntech upgrades include, Hydraulic Lift Suspension System ($4,900), Motorsport Suspension Package ($12,600), Renntech HHT ECU upgrade ($3,500), Renntech R1 Performance Package ($7,685), 5 speed Transmission Upgrade ($3,690), Torque Converter upgrade ($1,400), 100% Locking Limited Slip Differential ($4,480).

The exterior of the SLR is fitted with a complete Mansory "RENOVATIO" body kit. The kit includes new front and rear carbon fiber bumpers, carbon fiber side skirt, Mansory 6-tip exhaust system, carbon fiber rear winglet, carbon fiber mirror housing and carbon fiber hood/fender fins. Alongside the kit, a special set of 10-spoke HRE wheels specifically made for this car!

The interior of the SLR is just as impressive as its exterior, featuring an entire refitted interior with Alcantara material! The car is equipped with carbon fiber racing seats and a Bose sound system. Mansory has taken advantage of the interior as well, including new Mansory Carbon Fiber center console column, Mansory Carbon Fiber Gauge cluster and Mansory Carbon Fiber steering wheel shifters....
You may also like these vehicles