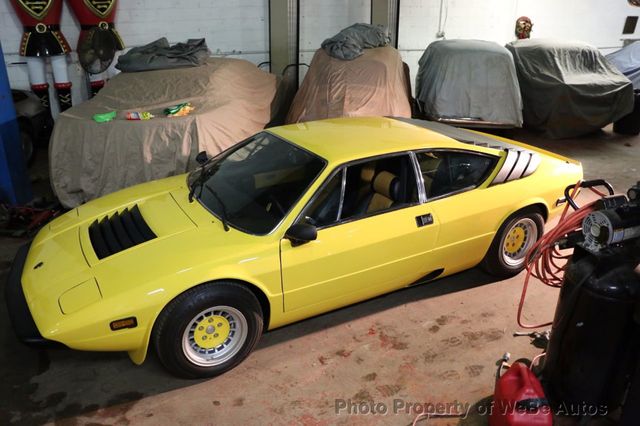 Details
Condition


Pre-Owned Clear Title

Engine


265 BHP, 2,996 CC SINGLE OVERHEAD-CAM V-8

Drivetrain


Rear Wheel Drive

Interior


Saddle

VIN #


20502

Mileage


25368

Transmission


Manual

Exterior Color


Yellow

Stock #


JARED20518960

Warranty




1976 Lamborghini Urraco P300
Chassis no. 20078
265 bhp, 2,996 cc single overhead-cam V-8 engine, five-speed manual transmission, front and rear McPherson strut suspension with lower A-arms, coil springs, and anti-roll bar, and four-wheel disc brakes.
>Lamborghini's response to the Dino
In the late 1960s, Ferruccio Lamborghini realized that his company required a competitive counterpoint to Porsche's 911 and Ferrari's Dino 246, and a less expensive alternative to the sensational Miura and the big Espada. Using a 2+2 configuration, offering rear seats that the rivals lacked, the car would also have a more powerful V-8 engine, as well as being designed by Marcello Gandini and shaped by Bertone. Bob Wallace, the mechanical genius who had helped tune other Lamborghini suspensions, had a hand in tweaking the four-wheel independent McPherson strut suspension, which helped contribute to the Urraco's outstanding road- holding ability. When the Urraco made its debut at the 1970 Turin Motor Show, it was one of the very few automobiles to have two cars displayed at its introduction, at two different stands; a white model posed at the Bertone booth, while a bright orange example was at the Lamborghini display. Both were well-received by the motoring press and public, and when the model was able to finally reach production three years later, it was built successfully for six years. As Ferruccio Lamborghini had intended, it was the car that introduced many enthusiasts to an experience that they had never before dreamed possible. The Urraco offered here must certainly be one of the nicest examples available, and importantly, it is in the most desirable configuration, with the later P300 engine, which is the largest installed by the factory in this model. Elegant yellow finish over a two-tone saddle interior. Quite simply, this car looks menacing in a way that few Urracos do. Well-maintained and presented, it would be a superb choice...
Interior & Exterior
Full Leather Interior Surface
You may also like these vehicles