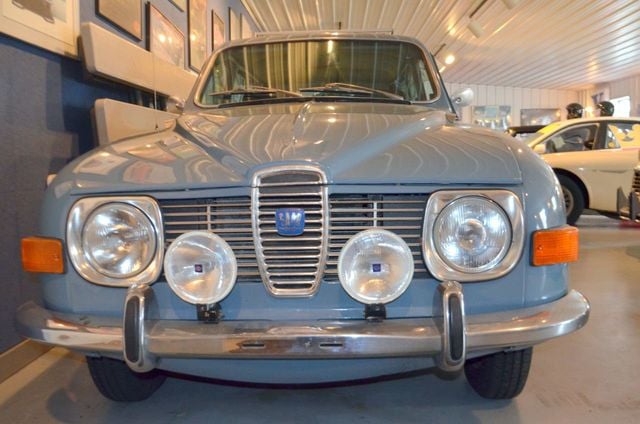 Details
Condition


Pre-Owned Clear Title

Engine


V4

Drivetrain


Front Wheel Drive

Interior


Blue

VIN #


95096090

Mileage


97000

Transmission


Manual

Exterior Color


Blue

Stock #


96090

Warranty


As-Is
LOOK! LOOK! West coast, totally rust free classic 7 passenger 95 station wagon. High-quality older restoration; ideal for driving enjoyment. A Portland, Oregon car from new, the car was sold to an enthusiast in San Diego in 2010 and recently shipped back to Oregon. This wagon has benefited from some nice upgrades over the years, including a rear shock conversion, electric cooling fan, Weber 3236 carb, Dragen hood vents, electronic ignition, and reworked heads to handle unleaded fuel. It has recently been serviced by a Saab vintage specialist and is ready for the road.
The Saab 95 is a seven-seater, two-door station wagon.
Initially it was based on the Saab 93 Sedan but the model's development throughout the years followed closely that of the Saab 96 after the 93 was taken off the market in 1960.
The first engine was an 841 cc three-cylinder two stroke but from 1967 onward, it became available with the same four-stroke Ford Taunus V4 engine as used in the Saab 96, the Saab Sonett V4 and Sonett III, and the German Ford Taunus. It had a four-speed manual trans. There was a small handle on the firewall that, when pushed, put the car into a freewheeling mode. This allowed the driver to coast downhill without seizing the two-stroke engine, but when power was needed the transmission would engage and the driver could power the car up hill again. As the 95 received the four-speed gearbox before the 96 (that still had the old three-speed unit) it was also used for rallying.
In the US, the Saab 95 received the larger 1.7 litre V4 for the 1971 model year, as a response to tighter emissions regulations. The compression ratio was lowered to 8.0:1, meaning that the power remained 73 hp (54 kW). The Saab 95/96 remained on sale in the United States until 1973.
.

Condition Report
No Known Accidents
No Known Bodywork
You may also like these vehicles