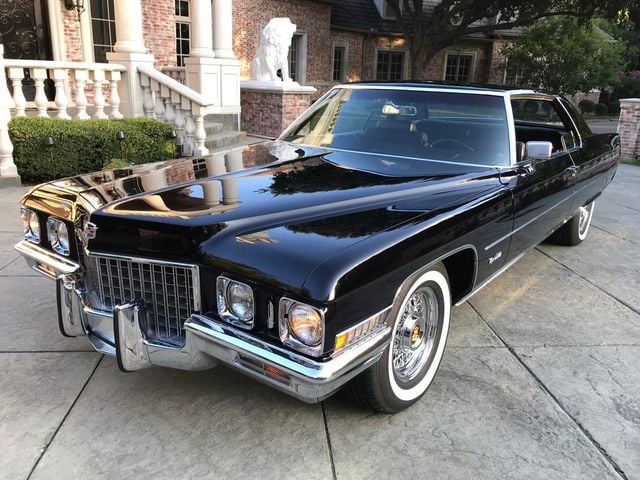 Details
Condition


Pre-Owned Clear Title

Engine


472 CID 16 VALVE V8

Drivetrain


Rear Wheel Drive

Interior


BLACK

VIN #


683471E369215

Mileage


14329

Transmission


Automatic

Exterior Color


Black

Stock #


683471E369215

Warranty



If you were to walk into a Cadillac dealership in 1972 to inquire about purchasing a "select pre-owned Cadillac," this is the caliber of car you would have been shown. With an average "one year's" mileage, original paint, interior, spare tire, tailpipe, resonator, shocks, belts and hoses, this is a car of that provenance. I have been a collector of pre-owned American cars for many years and this car is the finest collector grade car I have ever seen.

1971 was the last of the truly powerful Cadillacs. Not burdened with pollution control and EPA requirements that shipwrecked the big block cars of the mid to late 70's, this 375 horsepower 472CID power plant could torch the tires from a dead stop and blast to 80 mph in record time. In fact, this car's would rival later model Corvettes, despite its behemoth weight and size.

This car is remarkable in many ways. Starting with the pristine and brilliant black finish. The paint is unrivaled and is virtually without a mark. Some of the high resolution photos show dust and other particles, but from front to back, the typical chips of a car of this era are virtually non-existent. I cannot overemphasize the unrivaled quality of the entirely original paint, which has been metered from nose to tail. Adding to the breathtaking luster of the paint is that the car was presciently ordered with the ultra-rare vinyl top delete.

One of the distinctive features of a Cadillac was a leather interior. Despite the fact that cloth was still, in some instances, an upgrade (Fleetwood Brougham), the rage was for leather. And while that may have been the preferred option then, as most collectors will agree, a beautiful brocade fabric is infinitely more desirable. Cadillac's distinctive sheen and rich luxurious fabrics stand apart for durability, and age better than Jane Fonda. ...
You may also like these vehicles