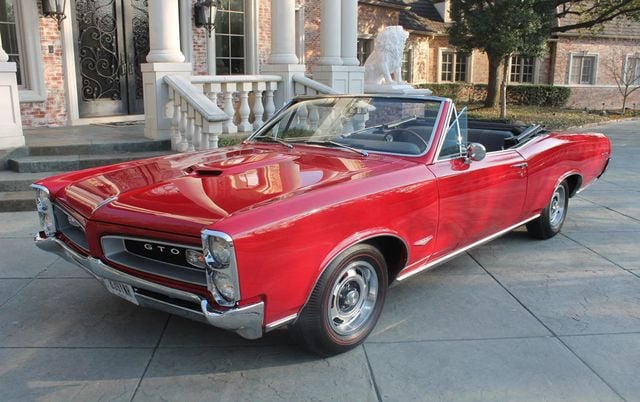 Details
Condition


Pre-Owned Clear Title

Engine


389 TRI POWER

Drivetrain


Rear Wheel Drive

Interior


BLACK

VIN #


242676B120792

Mileage


61643

Transmission


Automatic

Exterior Color


Red

Stock #


242676B120792

Warranty



This car would stand out in any collection worldwide or in your garage. You have seen GTO claiming to be one of the best, this unique optioned car with the Silver and Gold Awards, PHS documented and the #1- Rating is one of the best. ?This car is just in from a collector in OH. It is located in Plano TX.
PROFESSIONAL INSPECTION DOCUMENTATION PROVIDED WITH THE CAR AS WELL THE AWARDS AND PHS DOCS ETC. THIS CAR HAS THE DRIVE TRAIN IT WAS BORN WITH. PLEASE READ THRU AND REVIEW PICTURES THE RESIDUAL VALUE OF CREDENTIALS THIS CAR HAS ACHIEVED AS A CONCOURS WINNER, WILL LIVE FOREVER NOT TO MENTION THE CAR ITSELF. GREAT INVESTMENT DO YOUR RESEARCH, COMPARE QUALITY. THERE ARE MANY PRICED HIGHER WITH NONE OF THE CREDENTIALS AND QUALITY THIS CAR CARRIES. RATED: Condition # 1- EXCELLENT: Restored to current maximum professional standards of quality in every area or professional original with components operating and appearing as NEW, A 95-Plus point show car that is not driven. (Note: this car can be driven anywhere) There is plenty of documentation that goes with this car to include build sheet, as well professional inspection by a highly respected author of " Everything you need to know Car Collecting" by Steve Linden. Mr. Linden personally inspected and advised on this car. THIS CAR CAN BE ENJOYED AND DRIVEN ANYWHERE THIS CAR WOULD BE SOLD AND PRESENTED ON THE LAST DAY OF ALL THE MAJOR COLLECTOR AUCTIONS.... AS ONE OF THE PREMIER OFFERINGS If you are someone looking to enjoy driving and or show an absolutely stunning example of an original classic car or a collector of autos in the highest standard of condition then this is one for you.
Note: When I purchased the car it had two small imperfections on the top, about the size of a dime each. I have chosen not to repair. You could have repaired at your discretion. If you...
Condition Report
No Known Accidents
No Known Bodywork
You may also like these vehicles